Don't see the question you're looking for? Head to the bottom of the page and click the "contact us" button. From there you can send us any questions you may have, anything from retail to construction, questions to concerns.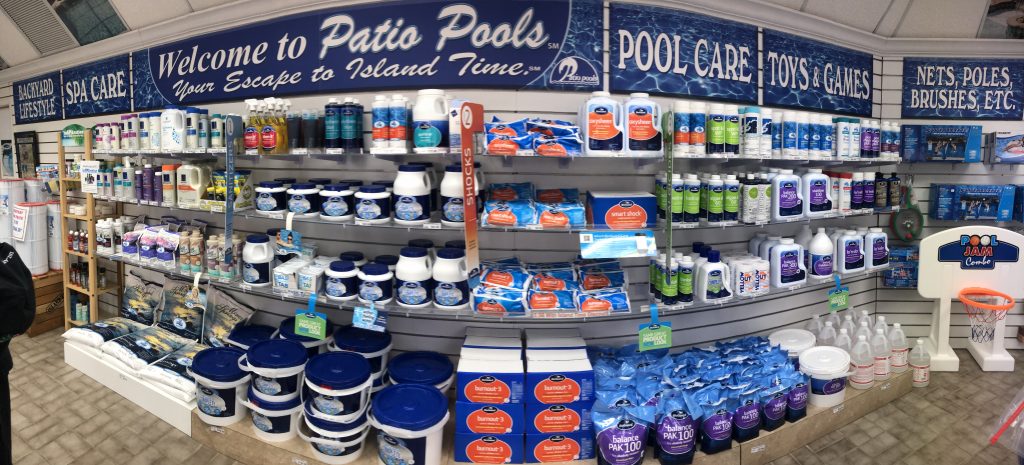 What make Patio Pools the right choice for me?
We've been building pools for the Tampa Bay area for over 40 years and have built a longstanding reputation for consistent quality, fast construction time and time tested construction practices. Our building partners have been with us for years and our construction managers/supervisors are highly qualified. Because we only build in certain locations of the Tampa Bay area, we are able to focus our work resources to insure the quality construction people have come to expect from a Patio Pool. We would be happy to provide references at your request.
What areas do you build in?
Most areas in Hillsborough, Pasco and Hernando counties.
Are all shapes of pools the same price? Is a rectangular pool cheaper than a circular?
There is a common misconception that curved or custom shaped pools carry a premium price. Not so with Patio Pools. Pool pricing is determined by square footage, as well as some linear footage components, plus the materials and special options that you choose.
What do I need to get started?
Call 813-327-4654 or e-mail sales@patiopools.com to set an appointment with one of our Design Consultants. If you'd prefer, you can fill out our
Request a free estimate form here
. Make sure then to budget 1-2 hours for the consultation at your home. You'll want to have your property survey available which should have been included with your house/title closing documents. Your design consultant will then:
Check for access to the construction area to give construction vehicles access to the back yard
Take measurements and shoot elevations.
Sit down to learn about the details of your dream pool.
The more information you can give the better. The Design Consultant can then show you the right options. Your Design Consultant will bring lots of design photo's to help you create a vision of what you want. Feel free to show us pictures of pool options you like so we can personalize it to just the way you wish.
You should then have an estimate for your dream pool within a week of your initial meeting!
How long does the entire building process typically take?
Our goal is to complete your pool as quickly as possible. Typically, construction time takes 55-60 working days once we break ground. The timeframe is very dependent on the complexity of the project, orders for any special components, weather conditions, and permitting schedules which are subject to municipal government practices. The average time to break ground once permits become available is typically 2 weeks.
Do you offer financing?
Yes…We have many great financing institutions that we have built relationships with.
Secured finance options are offered through SunTrust Bank and Unsecured option through Swimmingpool.com
How do I check if a pool builder is licensed? Or if they have any complaints on record?
Why shouldn't I go with the cheapest priced swimming pool?
At Patio Pools, we see it every year. People call us with their pools in some stage of construction bemoaning the fact that their pool builder has not done a quality job, they find themselves in their 4th month of building with no end in sight or worse yet their builder has gone out of business and liens are being filed by creditors. Unfortunately, many times it is too late for us to help them.
So here are some reasons why buying on price alone can come back to haunt you:
This group of builders typically uses the cheapest labor they can find and sometimes that labor is inexperienced and even worse, unlicensed. Even if these workers are conscientious, it is difficult for them to point out problems for fear of not being paid by the contractor.
Because of low margins, these builders are more likely to use lower quality materials and building techniques. For example:

Utilization of inferior pool finishes (like marcite).
Undersized pumps and filters.
Cheap bullnose tile instead of bullnose brick or cantilever deck edge.

Every year you hear about pool builders going out of business and leaving their customers high and dry! It is typically these lower cost pool builders who are most susceptible. Don't become the next consumer news feature on your local TV news.
Will your builder give you referrals from happy customers who have recently had a pool built as well as customers who have owned their pool for a few years? It's better if you determine if the pools being built can pass the test of time than get stuck with expensive replacement and repair costs.
Foremost, there are more things than just price. Consider how well and how long the pool builder stands behind their product if something goes wrong as well as the type of warranties they offer.
Which parts of the construction process does Patio Pools provide?
Patio Pools helps you with the design, pool construction, plumbing and electrical, deck finishes and screen enclosures. In addition we provide outdoor kitchens to seamlessly match your pools design.
What are my responsibilities in the building process?
You are responsible for capping off or removing irrigation lines prior to construction, as well as moving power lines, air conditioning units, underground pipes, sewer lines, septic tanks, well fields and trees if necessary. You should also be ready to address any sod work or landscaping that needs to be done after the construction process.
Will I be notified at the beginning of each phase of construction?
Once permits become available, a construction manager will contact you and discuss the start of the project and answer any question you might have. As the project progresses you will be contacted by Patio Pools to let you know when certain activities will take place at your site. Once construction has begun it's always better to direct construction related questions to your field supervisor if you have questions, although your design consultant is always available and happy to field questions.
Can weather effect the project completion time?
Keep in mind that we live in Florida. At certain times of the year weather can become extreme and impact the ability to work outdoors. Certain phases of the construction process can be affected by weather more than others. At all times we will communicate with you regarding weather delays. Click here to fill out our online quotation form.